13 January 2022: Stocks making the biggest moves
Market Movers | Trading Dashboard
Market Movers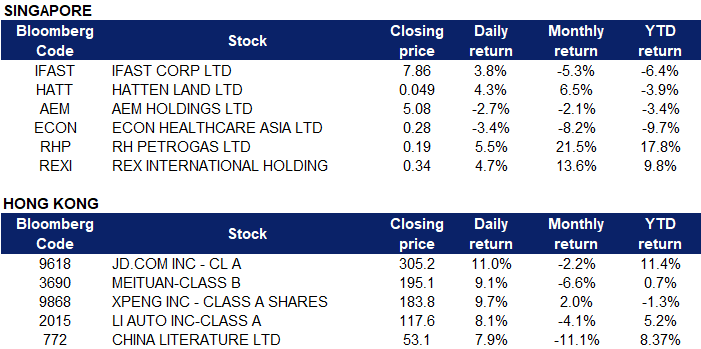 ---
United States
Top Sector Gainers
Top Sector Losers
Crocs Inc (CROX US) shares gained 6.8% yesterday after Piper Sandler named the stock a top 2022 pick. The Wall Street firm said it sees "impressive consumer growth" for Crocs for years to come. Piper Sandler said it was raising its fiscal fourth-quarter earnings estimates on Crox to $2.01 a share from $1.42 on the strength of the brand throughout the holiday season. The firm said Crox "didn't see notable impacts from Omicron and saw strong full-price selling and healthy traffic."
Tesla Inc (TSLA US) shares rose 3.9% yesterday after data from the China Passenger Car Association (CPCA) showed that Tesla sold 70,847 China-made vehicles in December, the highest monthly rate since it started manufacturing in Shanghai in 2019. The automaker, which has been able to surmount supply chain woes experienced by rivals to post record quarterly deliveries, said during its third-quarter results in October that the Shanghai plant's potential annual output exceeded 450,000 vehicles.
Freeport Mcmoran Inc (FCX US), Southern Copper Corp (SCCO US) shares gained 5% and 4.8% respectively yesterday as Copper futures climbed to $4.5 per pound in January, touching the highest level since end-October, lifted by a weaker dollar and expectations of stronger demand from China. Data released on Wednesday showed that inflation measures eased sharply in China in December, in turn strengthening speculation that a fresh round of stimulus support could be on the way. Industrial metals, led by copper, would be a key beneficiary.
Paypal Holdings Inc (PYPL US) shares declined 2.3% yesterday after Jefferies downgraded PayPal to a hold rating from buy and cut its price target. "We are incrementally more cautious on the fundamental backdrop in 2022 and believe multiple expansion potential is limited until investors can restore confidence in PYPL achieving its medium-term targets," the firm said.
---
Singapore
iFast Corporation (IFAST SP) shares recovered yesterday, closing 3.8% higher after it lost as much as 6.9% in the previous trading session. The company announced that it had priced its private placement at S$7.50 per share. iFast had raised gross proceeds of S$105 million via the placement on Monday, bringing the total number of shares to be issued to 14 million. The placement will be used to fund the proposed acquisition of a majority stake in BFC Bank, which iFast said would help accelerate the growth of its overall wealth management business.
Hatten Land (HATT SP) shares jumped 4.3% yesterday after the company confirmed on Tuesday its first shipment of crypto mining rigs with Frontier Digital Management. Previous shipments were delayed due to supply chain challenges. The crypto mining rigs will mine Bitcoin, and will commence operations this month after delivery and installation.
AEM Holdings (AEM SP) shares lost 2.7% yesterday after hitting a near two-week high on Tuesday, likely on profit-taking. AEM on Tuesday announced a revenue guidance of between S$670 million and S$720 million for FY2022. CGS-CIMB analysts raised its target price on the stock by 35% from $5.84 to $7.90, representing a potential upside of 50 per cent from AEM's trading price of S$5.24. CGS-CIMB cited Intel's plans to invest US$7.1 billion in the expansion of its test and assembly operations in Malaysia following a global shortage of semiconductors. AEM is a crucial partner of Intel.
Econ Healthcare (ECON SP) shares plunged 3.5% yesterday, after DBS Group Research downgraded the stock to "Hold" from "Buy", and lowered its target price to $0.28. The company recently invested about S$4 million of its idle working capital into 11.8 million shares in Hong Kong-listed interior design firm Crosstec, which saw its stock nosedive 84% on Tuesday, implying a potential loss of $3.2 million for Econ Healthcare. DBS analyst Paul Yong said that while the losses could be recouped, he added that Econ's investment mandate and strategy "should be tightened significantly".
RH Petrogas (RHP SP) and Rex International (REXI SP) shares gained 5.5% and 4.7% respectively in tandem with oil prices. Crude oil futures extended strong gains as investors remained bullish on the outlook for oil amid supportive remarks from US Federal Reserve chair Jerome Powell. Powell said at a Jan. 11 congressional hearing the Fed would raise interest rates as needed to curb inflation, while reiterating that the economic recovery remained on track.
---
Hong Kong
Top Sector Gainers
Top Sector Losers
JD.com Inc (9618 HK), Meituan (3690 HK) shares rose 11% and 9% respectively yesterday. Chinese tech stocks have rallied over the past week in general, as investors are increasing bets that China's central bank will cut interest rates this year in order to give the struggling economy a boost, and authorities have signalled openness to a rate cut, which could come as soon as next week. Additionally, it was reported last yesterday that JD was opening automated stores in Europe, similar to Amazon Go stores, where robots will prepare and deliver packages. The first two are in The Netherlands, and shoppers can visit the stores to pick up items they've ordered. It represents the company's first brick-and-mortar foray into Europe, opening up a huge market for JD.
Xpeng Inc (9868 HK), Li Auto Inc (2015 HK) shares gained 9.7% and 8.1% respectively yesterday. According to the China Passenger Car Association, China's EV sales, which more than doubled last year and should end up topping 3 million once December's figures are added, are forecasted to almost double again to 6 million in 2022. New-energy vehicles, which include electric cars, plug-in hybrids and fuel-cell autos, will account for about one in five of new car sales. A growing preference for greener, cleaner vehicles contributed to the EV sales surge. EVs are also seen as smarter than ICE cars, offering features from autonomous driving to in-car karaoke. Homegrown upstarts Xpeng, Nio and Li Auto have established themselves as serious contenders, while SAIC-GM-Wuling Automobile's pint-sized Hongguang Mini has proved popular with price-conscious young drivers.
China Literature Ltd (772 HK) shares rose 7.9% yesterday. According to the latest equity disclosure information on the Stock Exchange, from January 6 to January 7, non-executive director Cao Huayi, increased his holdings in the company by 1mn shares, with an average price of HK$46.75 – HK$48.37 per share. The capital involved is approximately HK$47.56mn. After the increase in holdings, the latest number of shares held by Cao Huayi was 41.39mn shares, and his shareholding ratio increased from 3.95% to 4.05%.
---
Trading Dashboard
Trading Dashboard Update: Add Singtel (ST SP) at S$2.41.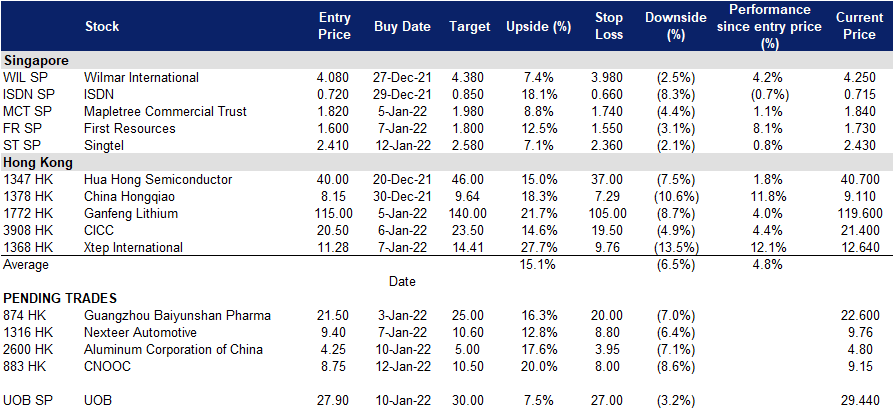 (Click to enlarge image)
---

---
Related Posts: