13 Dec 2021: Genting Singapore (GENS SP), Nexteer Automotive Group (1316 HK)
Singapore Trading Ideas | Hong Kong Trading Ideas | Market Movers | Trading Dashboard
SINGAPORE
Genting Singapore (GENS SP): Reopening postponed but not cancelled
BUY Entry – 0.78 Target – 0.86 Stop Loss – 0.74
Genting Singapore is best known for its award-winning flagship project Resorts World Sentosa, one of the largest fully integrated destination resorts in South East Asia. Genting Singapore is one of the constituent stocks of the FTSE Straits Times Index.
Delayed not cancelled. Shares of Genting Singapore dropped more than 10% since the Omicron variant wreaked havoc on global risk assets. Reopening plays were hit particularly hard as governments imposed new mandates.
This shall pass. After a little more than two weeks since Omicron's discovery, early data from the epicentre in South Africa indicates that the virus appears to be spreading faster but does not appear to be causing severe disease. We think once the Winter Covid-19 surge starts to abate going into 1Q 2022, governments are likely to continue with their reopening plans.
Consensus estimates provide for upside potential. Consensus estimates are not very high for the company, thus presenting an opportunity for the company to beat estimates especially on pent up demand for travelling and leisure activities. There are currently 9 BUYS vs 9 HOLDS and 1 SELL rating. The 12m average TP of S$0.92 still implies a 17% potential upside. Earnings are expected to recover to around 70% of pre-pandemic levels next year.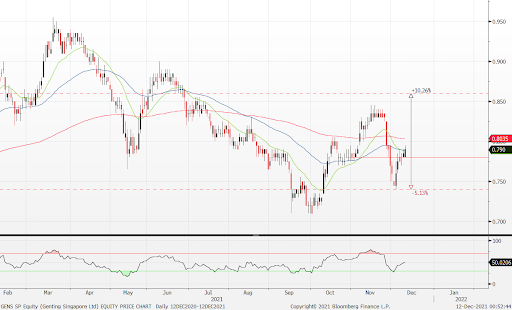 ---
Wilmar International Ltd (WIL SP): It's the season
REITERATE BUY Entry – 4.20 Target – 4.38 Stop Loss – 4.11
Wilmar is Asia's leading agribusiness group that encompasses the entire value chain of the agricultural commodity business, from cultivation and milling of palm oil and sugarcane, to processing, branding and distribution of a wide range of edible food products in consumer, medium and bulk packaging, animal feeds and industrial agri-products such as oleochemicals and biodiesel.
Crude palm oil: The new wave. Seasonally, December has been a strong month for crude oil prices. Malaysian palm oil futures bounced back above MYR 4,900 per tonne in early December but have pulled back slightly below MYR 4,800 per tonne at the end of last week. Malaysia's palm oil stockpile at the end of November likely fell 3.5% from the previous month to a four-month low of 1.77mn tonnes. At the same time, production likely rose 1%, while exports were forecast to grow 11.9%. The sell-off two weeks ago caused palm oil to hit the lowest level since early October, as investors feared the Omicron variant could further hit the global economic recovery. However, palm oil prices are likely to recover as Omicron fears subside, coupled with the supply and demand dynamics moving into the season.
Aggressive share buy-backs. The company had been buying back tranches of shares over the last month and into December.
Positive consensus estimates. Wilmar currently has a rating of 13 BUYS and 0 HOLD and SELL, with a 12M TP of S$5.98, representing an upside potential of 43.1% as of Friday's closing price of S$4.18.
Generic 1st Crude Palm Oil (K01 Comdty): December 2020 rally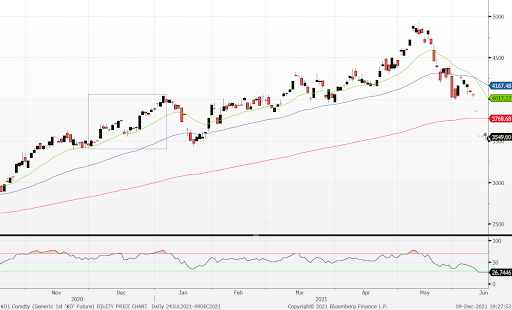 Share buy-back summary table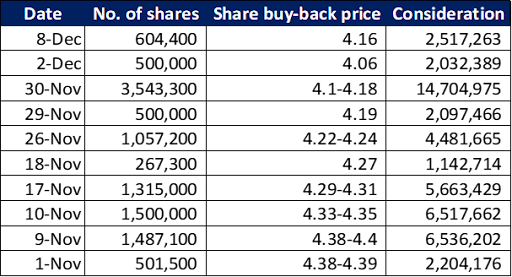 ---
HONG KONG
Nexteer Automotive Group Ltd (1316 HK): A proxy trade to Ford and General Motors
Buy Entry – 10.5 (Buy Stop) Target – 12.5 Stop Loss – 9.5
Nexteer Automotive Group Limited is an investment holding company. The Company through its subsidiaries are primarily engaged in the design and manufacture of steering and driveline systems, advanced driver assistance systems (ADAS) and automated driving (AD) and components for automobile manufacturers and other automotive-related companies. Its operations are in the United States of America (USA), Mexico, Poland and the People's Republic of China (China). The principal markets for the Company's products are North America, Europe, South America, China and India. The Company has approximately 27 manufacturing plants, one global technical center, over two regional technical centers, one software service center and approximately 13 customer service centers. Its subsidiaries include Nexteer US Holding I LLC, Rhodes I LLC, Steering Solutions IP Holding Corporation, Chongqing Nexteer Steering Systems Co., Ltd., CNXMotion, LLC and Dongfeng Nexteer Steering Systems (Wuhan) Co., Ltd.
Ford Motor (F US) reached a 20-year high. The demand for the EV version of the Ford F150 pickup truck, F150 Lightning, is so strong that the company had to stop reservations. The preorder of this pickup model had reached 200,000 units. The CEO mentioned they were pushing full production capacity at 70,000 or 80,000 units for the Lightning. The other auto giant General Motor (GM US) also planned to invest more than US$3 billion to make electric vehicles in its home state of Michigan. North America is the main revenue contribution for Nexteer, accounting for more than 60% of the total annual revenue over the past 5 years. General Motors and Ford are two of the key customers of Nexteer. GM's EV pickup truck, the electric Chevrolet Silverado, features all of Nexteer's product lines, including the HO REPS, Ball Spline Axle Halfshaft and steering column. Ford's F150 Lightning utilises Nexteer's REPS system with 10-FIT High Availability technology, as well as the power steering column.
Updated market consensus of the EPS growth in FY22/23 are 52.8%/19.7% YoY respectively, which translates to 11.7x/9.8x forward PE. Current PER is 16.9x. Bloomberg consensus average 12-month target price is HK$12.64.
Price performance closely mimics Ford and General Motors.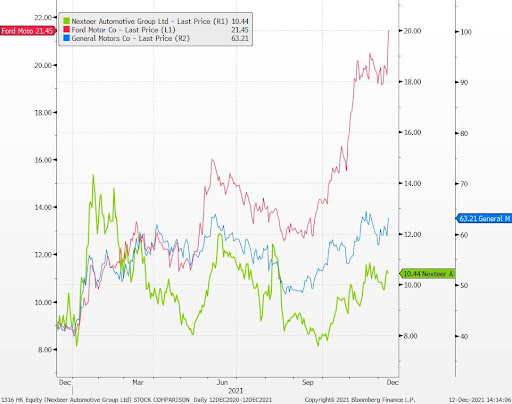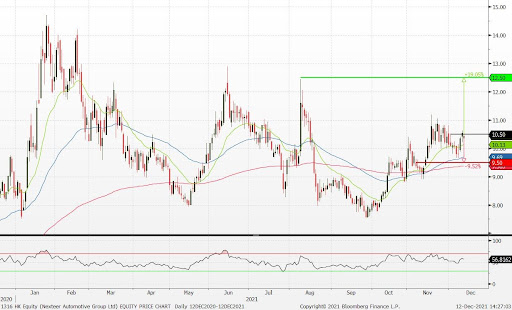 ---
Ganfeng Lithium Co Ltd (1772 HK): Buy at the lower bound of the consolidation range
REITERATE Buy Entry – 135 Target – 160 Stop Loss – 125
Ganfeng Lithium is a China-based company principally engaged in the research, development, production and sales of deeply processed lithium products. The Company's main products include lithium compounds, lithium metal and lithium batteries. The Company's products are mainly used in electrical vehicles, chemicals and pharmaceuticals. The Company distributes its products in the domestic market and to overseas markets.
Lithium carbonate reached a new high. Lithium carbonate prices in China rose to RMB204,500/tonne as of 9th December. As holiday seasons (from Christmas to Chinese new year) draws near, production is expected to slow down as refinery plants will be gradually under the annual overhaul (7 to 30 days). However, EV companies accelerated to stock up lithium carbonate inventories before the holidays. The strong demand for raw materials for batteries will continue to push prices higher at least till 1Q22.
Overseas expansion approved. Recently, the board approved the acquisition of 50% equity interest in Netherlands SPV Company by GFL International Co., Limited, a wholly-owned subsidiary of the Company at a price of US$130 million with its own funds. The exploitation licence of Goulamina Spodumene Mine Project will be transferred to Netherlands SPV company. Ganfeng is considering the 2nd phase expansion of the Goulamina Spodumene Mine Project. The production capacity of the project will increase by 75% from 2.3 million tons to 4 million tons per annum; the production capacity of spodumene concentrate will also increase accordingly, compared to about 450,000 tons per annum, placing Goulamina Spodumene Mine Project among the largest producers globally.
Updated market consensus of the EPS growth in FY22/23 is 40.3%/21.4% YoY respectively, which translates to 31.0x/25.5x forward PE. Current PER is 49.2x. Bloomberg consensus average 12-month target price is HK$205.31.
Lithium carbonate prices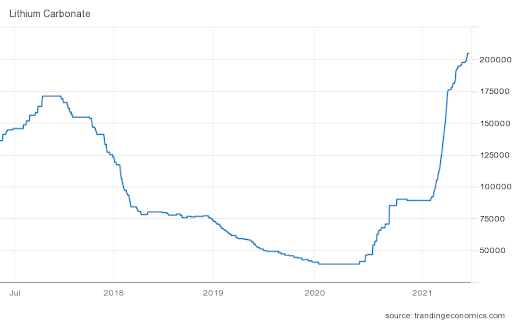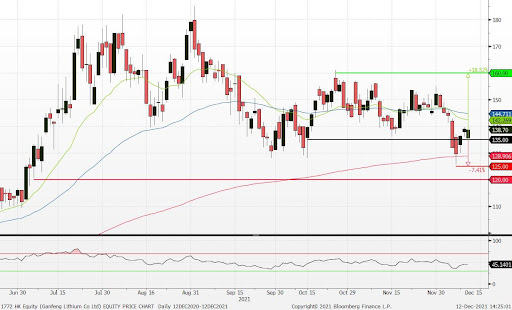 ---
Market Movers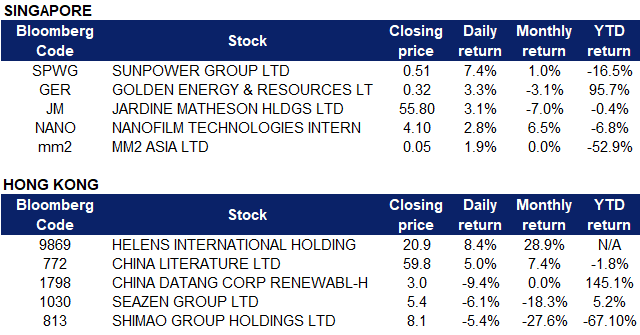 ---
United States
Top Sector Gainers
Top Sector Losers
Oracle Corp (ORCL US) Shares jumped 15.6% on Friday after the company reported stellar earnings. Oracle's revenue rose 6% YoY to $10.4bn for the period ended Nov. 30. The gains were driven by a 6% rise in cloud services and license support revenue to $7.6bn, and a 13% jump in cloud license and on-premise license revenue, to $1.2bn. Management expects Oracle's revenue to grow by roughly 7% in constant currency in the third quarter, fueled by further expansion in its cloud businesses.
AMC Entertainment (AMC US) shares declined as much as 10% before closing 7% lower after it was revealed in SEC filings that CEO Adam Aron and CFO Sean Goodman sold 312,500 and 18,000 shares respectively. Aron had previously indicated in November that he was planning on selling shares as part of estate planning.
Broadcom (AVGO US) shares climbed 8.3% on Friday after the company released results for its latest quarter. Revenue rose 15% YOY to $7.4 billion, with revenue in the company's semiconductor solutions and infrastructure software divisions increasing 17% and 8% respectively to $5.6 billion and $1.8 billion. Broadcom expects to earn revenue of roughly $7.6 billion in the first quarter of fiscal 2022.
Lululemon (LULU US) shares slid 1.8% on Friday despite reporting adjusted quarterly profit of $1.62 per share, 21 cents above estimates, with revenue slightly above forecasts as well. The apparel maker warned that new Covid-19 variants could impact demand for "athleisure" clothing if virus concerns lead to temporary store closures and further supply chain issues.
Moderna (MRNA US) shares declined as much as 14% before closing 5.6% lower at $431.33 on Friday. It was reported that the first human trial results from its experimental seasonal flu shot fell short of expectations. The Moderna shot raised antibodies against influenza as much as a high-dose vaccine from Sanofi that's already on the market.
---
Singapore
Top Glove (TOPG SP) shares tumbled on Friday after the company reported earnings of RM185.7 million for the 1QFY2022 ended November, down 92.1% from the RM2.36 billion from a year ago. Top Glove said that the mediocre performance was likely attributed to normalising average selling prices (ASPs) and glove demand following mass vaccine rollouts globally, while customers remained cautious on replenishing orders. Earnings per share was at 2.32 sen for 1QFY2022, compared to 29.02 sen in 1QFY2021, and sales revenue of RM1.58 billion for the 1QFY2022, 66.7% lower that the RM4.76 billion achieved in 1QFY2021.
DiSa Limited (DISA SP) shares jumped 50% on Friday after the company announced its partnership with the National University of Singapore and SingHealth to commercialise the new saliva-based COVID-19 antigen rapid test (ART) kits. DiSa emphasized the need for the ART kits to be tamper-free, considering the strong demand for these as Vaccinated Travel Lanes open up. Demand is expected to increase further as countries reopen and testing becomes more regular.
AusGroup Limited (AUSG SP) shares extended its losses on Friday, losing another 4.2%. The company previously announced that it has secured a contract for the construction of a lithium refinery for Covalent Lithium, a joint venture between Australian-listed Wesfarmers and New York Stock Exchange-listed Sociedad Quimica y Minera de Chile. AusGroup will supply, fabricate and deliver 58 stainless steel and carbon steel tanks for the refinery.
Nanofilm (NANO SP) shares lost 2% on Friday, likely on profit taking. DBS Group Research previously upgraded its call on the stock to "Buy" from "Hold" with a higher target price of $4.96, saying that it believes that the worst is now over for Nanofilm, with earnings for FY2022 and FY2023 projected to grow at 44% and 16% respectively. Shares previously closed at its lowest point on 13 October, a day before Gary Ho was named the next chief executive.
Vibrant Group (VIBG SP) shares gained 1.1% on Friday after it was announced that Vibrant Equities (owned by the group) and two brothers of Vibrant's controlling shareholder and chief executive plan to put up $6 million to subscribe for new shares in Hiap Seng Engineering (HSE SP). Investors would get options to subscribe for new shares which can be exercised at the subscription price in the first 12 months for a 10% premium in the next 12 months. Vibrant Equities could hold as much as 48 per cent of the enlarged share capital of Hiap Seng if the options are fully exercised in the first 12 months
---
Hong Kong
Top Sector Gainers
Top Sector Losers
Helens International Holdings Co Ltd (9869 HK). Shares rose 8.4% on Friday after Guotai Junan maintained its overweight rating on the company with a target price of HK$31.6. The research report mentioned that the company is looking towards store expansion in the short and medium-term, and exploring the beer retail business in the long-term. Helens' scale, brand and technological advantage builds its core competitive edge. It is estimated that there will be 2,660 store openings, and the net profit attributable to the parent from 2021-23 will be RMB 1.36/5.44/1071bn, corresponding to 149/37/19x PE respectively.
China Literature Ltd (772 HK). Shares rose 5% on Friday, after Morgan Stanley released a research report stating that it expects the company's share price to rise in the next 15 days, with a probability of approximately 70%-80%, and a target price of HK$76. The report mentions that "Snow Fighter" is one of the most important series of NCM and the company's own IP. The series has been confirmed to be released on December 15th, which is expected to alleviate market concerns about the company's earnings this year.
China Datang Corp Renewable Power Co Ltd (1798 HK). Shares declined 9.4% on Friday after the company announced that Mr. Meng Lingbin intends to resign as an executive director of the company and his position in the board committee. Mr. Yu Fengwu was nominated as a candidate for non-executive director of the company, effective from the date of shareholders' approval at the general meeting of shareholders.
Seazen Group Ltd (1030 HK), Shimao Group Holdings Ltd (813 HK). Property sector shares fell last Friday. Seazen and Shimao Group shares declined 6.1% and 5.4% respectively. Last Friday, Moody's commented that due to the tight financing environment across real estate companies and regulations to curb housing price rises, real estate prices in various tier cities have fallen recently. Moody's also expects that under the influence of the continued decline in sales, the YoY decline in national contract sales in October this year will further rise to 24.1%, which is larger than the 16.9% decline in September. As investors and lenders continue to avoid developers with weak financial resources, the tight credit environment will increase the refinancing risk of the real estate industry.  
---
Trading Dashboard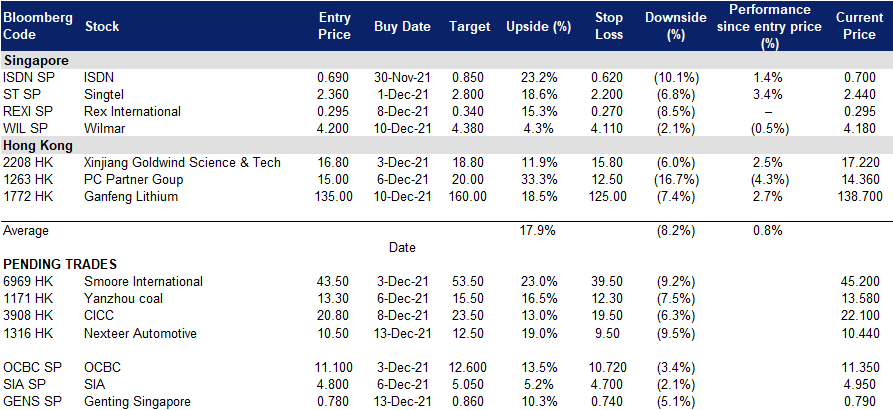 (Click to enlarge image)
---

---
Related Posts: