11 January 2022: Stocks making the biggest moves
Market Movers | Trading Dashboard
Market Movers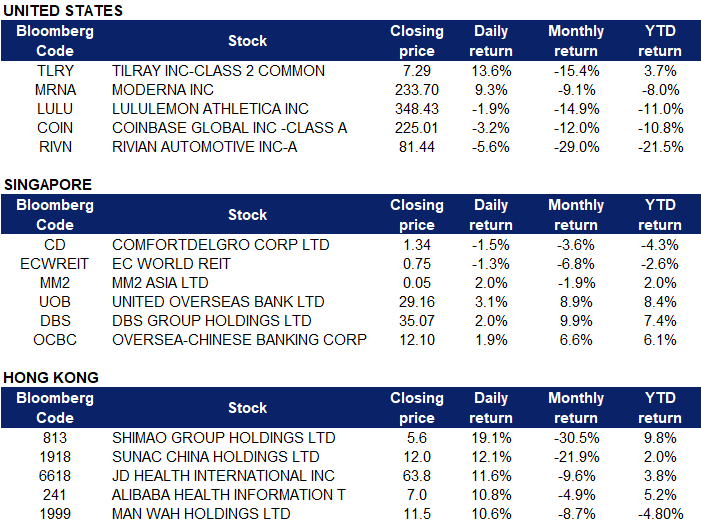 ---
United States
Top Sector Gainers
Top Sector Losers
Tilray (TLRY US) shares surged 13.6% yesterday after the company reported a significant improvement in its operational and financial results. Net revenue climbed 20% YOY to $155 million in its fiscal 2022 second quarter ending 30 November. Tilray's net income rose to $6 million, compared to a net loss of $89 million in the year-ago period. The marijuana company also generated adjusted earnings before interest, taxes, depreciation, and amortization (EBITDA) of $13.8 million, making it the 11th quarter that the company has posted positive results.
Moderna (MRNA US) shares surged 9.3% after the company announced that it is working on a booster shot that will target the COVID-19 omicron variant "with public health leaders around the world." CEO Stephane Bancel said the omicron-specific booster will enter clinical trials soon, and Moderna is discussing whether the shot needs to contain any other components to fight the virus.
Lululemon (LULU US) shares lost 1.9% after the apparel maker said that it now expects weaker results for the fourth quarter due to spillover effects from the COVID-19 omicron variant. The company added that its fiscal fourth-quarter earnings and sales will likely come in at the low end of previous estimates.
Cryptocurrency related stocks declined on Monday as most crypto tokens took a beating yesterday, with bitcoin dipping below $40,000 briefly and ethereum declining below the $3,000 mark. Coinbase (COIN US) and Riot Blockchain (RIOT US) shares lost 3.2% and 1.3% respectively.
Rivian Automotive (RIVN US) shares lost 5.6% yesterday after the EV maker announced that its chief operating officer, Rod Copes, has left the company. The company said in a statement that Copes "began a phased retirement from Rivian several months ago, affording the team continuity as we moved toward production ramp." Additionally, the company said that it produced 1,015 vehicles by the end of 2021 in a filing yesterday. Rivian previously said last month that it expected production to be "a few hundred vehicles short" of its 2021 target of 1,200 because of supply chain constraints.
---
Singapore
ComfortDelgro (CD SP) shares lost 1.5% yesterday after it announced that its subsidiary ComfortDelGro MedCare (CDG MedCare) is acquiring a 90% stake in wheelchair transport service provider Ming Chuan Transportation for $8.5 million.
EC World Reit (ECWREIT SP) units declined 1.3% after Fu Zhuo Industrial, a property owned by Hangzhou Fu Zhuo Industrial (a wholly-owned subsidiary by EC World REIT) received a formal notice from the People's Government of Linping District, Hangzhou City on 6 January, for the compulsory expropriation of Fu Zhuo Industrial. The expropriation will contribute to the development of the Grand Canal National Cultural Park in Hangzhou. Fu Zhuo Industrial was valued at RMB117 million, representing approximately 1.45% of EC World REIT's portfolio.
mm2 Asia (MM2 SP) shares climbed 2% after it announced that the long-stop date of the agreement for the possible merger of the Cathay Cineplexes and Golden Village cinema businesses had lapsed on 31 December. The owner of Cathay previously announced a few days ago that its planned sale of the cinema business to local investment firm Kingsmead Properties had fallen through.
Bank stocks United Overseas Bank Ltd (UOB SP), DBS Group Holdings Ltd (DBS SP) and Oversea-Chinese Banking Corp Ltd (OCBC SP) extended their gains yesterday, rising another 3.1%, 2% and 1.9% respectively. This was likely triggered by a spillover effect from the US, after the Fed's FOMC meeting minutes were released last week. The Fed, now expected by traders to raise interest rates in March and begin reducing its asset holdings soon afterward, will provide the dollar with an edge over other major currencies. Financial markets are now pricing in at least three US rate hikes this year. Additionally, UOB Kay Hian Research analyst Jonathan Koh recommends OVERWEIGHT on the Singapore banking sector, citing that interest rates would be on an upcycle after quantitative easing (QE) tapering is completed by March 2022. Koh is recommending BUY on both DBS with a target price of S$40.28, and OCBC with a target price of S$16.12, with a 2023 dividend yield of 4.5% and 4.8% respectively.
---
Hong Kong
Top Sector Gainers
Top Sector Losers
Shimao Group Holdings Ltd (813 HK), Sunac China Holdings Ltd (1918 HK). Property sector shares rose collectively yesterday. Shares rose 19.1% and 12.1% respectively. Last week, China called on banks to boost real estate lending in the first quarter and eased a key debt restriction for developers, a sign that the authorities are becoming increasingly concerned about the industry's liquidity crisis. At the same time, borrowing by major property firms used to fund mergers and acquisitions will no longer be counted towards the "three red lines" metrics that limit debt. Shimao Group Holdings, which defaulted on a trust loan last week, has put on sale all of its real estate projects, including both residential and commercial properties, Caixin reported over the weekend.
JD Health International Inc (6618 HK) and Alibaba Health Information Technology Ltd (241 HK) shares rose 11.6% and 10.8% respectively yesterday. Some institutions believe that even though there are still high policy risks in the industry in the short term, the profit model of pharmaceutical e-commerce companies is straightforward and steady. Catalysts include the increase in the penetration rate of online drug sales, and the connection of Internet medical care to the medical insurance payment system. Recently, Western Securities released a report, pointing out that the growth rate of offline pharmacies has slowed down and the space is becoming increasingly saturated. E-commerce, self-operated, medical and health services are fully deployed, from consultation to medication to aid digital medical care. Western Securities has issued a BUY rating on Ali Health with a target price of HK$10.44.
Man Wah Holdings Ltd (1999 HK) shares rose 10.6% yesterday. At the beginning of last month, Man Wah Holdings stated that from an operational point of view, weak real estate sales had little impact on the company. According to the interim report, the company is the head manufacturer of upholstered furniture, and the company's revenue from sofas and ancillary products accounts for more than 70%. The rise in share price is also likely linked to the rebound in property sector shares.
---
Trading Dashboard
Trading Dashboard Update: No additions/deletions to trading dashboard.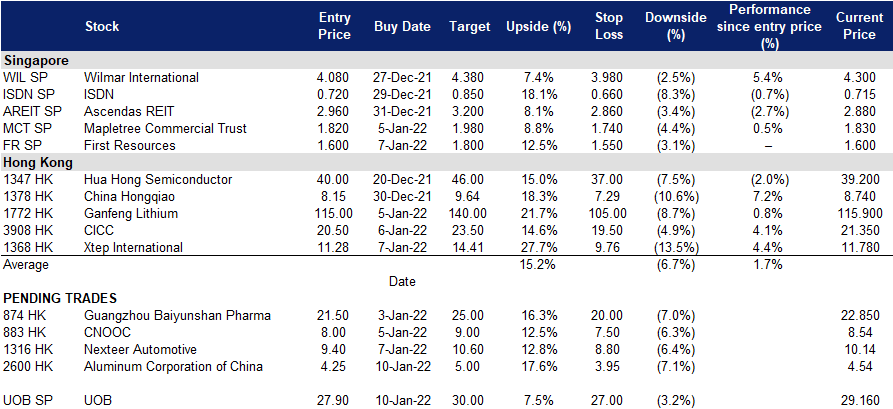 (Click to enlarge image)
---

---
Related Posts: