10 March 2022: Stocks making the biggest moves
Market Movers | Trading Dashboard
Market Movers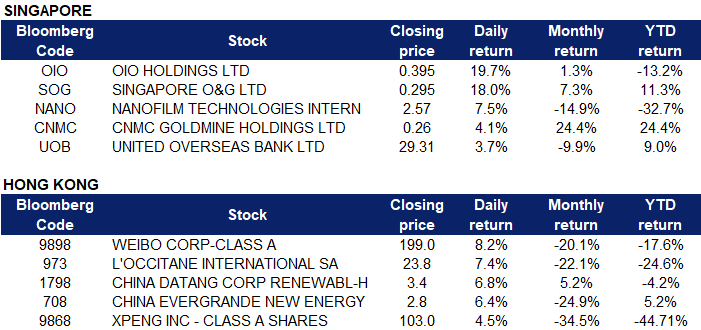 ---
United States
Top Sector Gainers
Top Sector Losers
Coinbase Global Inc (COIN US) and Block Inc (SQ US) shares jumped 10.5% and 11.2% respectively yesterday. Bitcoin soared on Wednesday (Mar 9) after President Joe Biden signed an executive order that requires US government agencies to assess the benefits and risks of creating a central bank digital dollar and other cryptocurrency issues. The executive order potentially expands the adoption of virtual currencies in the US financial system.
American Airlines Group Inc (AAL US) and United Airlines Holdings Inc (UAL US) shares gained 5.9% and 8.3% respectively yesterday. Travel and leisure stocks broke sharply higher on Wednesday as a potential meeting between the foreign ministers of Russia and Ukraine lifted sentiment that a settlement could eventually be worked out. Despite inflation and interest rate risks in the market, some analysts are pointing to the strength of the U.S. consumer and noting that even higher gas prices are likely to not be as much of a negative factor as feared on household spending trends. In addition, WTI crude oil sunk more than 12%, settling at $108.7 per barrel, registering its worst day since November 26th as US government appeared to make progress on securing more oil production from other sources. Iraq said it could boost output if OPEC+ asks and Secretary of State Blinken signaled that UAE would support increased production by OPEC+.
Netflix Inc (NFLX US) shares rallied 5% after Wedbush upgraded the streaming company to a neutral rating from outperform. "While we do not anticipate significant share price appreciation in the near-term, Netflix's first-mover advantage and large subscriber base provides the company with a nearly insurmountable competitive advantage over its streaming peers," Wedbush said in a note.
---
Singapore
OIO Holdings Ltd (OIO SP) shares surged 19.7% yesterday. Bitcoin led a rally in cryptocurrencies on Wednesday after Treasury Secretary Janet Yellen said that a still-pending executive order on virtual currencies from President Joe Biden "calls for a coordinated and comprehensive approach to digital asset policy (that) will support responsible innovation." The statement "seems to indicate that (U.S. authorities) won't be taking any swift, major regulatory actions as yet, and will likely be taking a more coordinated and objective approach over time," leading cryptocurrencies to rally, said Matthew Dibb, COO of Singapore crypto platform Stack Funds.
Singapore O&G Ltd (SOG SP) shares surged 18% yesterday, after it was announced that the healthcare service provider has received a voluntary unconditional cash offer at S$0.295 a share from special purpose vehicle NewMedCo Group, according to a bourse filing on Monday (Mar 7). NewMedCo said it intends to make Singapore O&G its wholly-owned subsidiary and does not intend to preserve its listing status. It expects privatisation will give it and the management of the company more flexibility in managing its business, and optimise the use of its management and capital resources and facilitate the implementation of any operational change.
Nanofilm Technologies International Ltd (NANO SP) shares gained 7.5% yesterday. Analysts from DBS and Citibank have maintained their "buy" calls and unchanged target prices on Nanofilm, with DBS Group Research holding their target price at $4.12 and Citibank at $3.92. DBS Group Research's Ling Lee Keng writes that after an "eventful year" in 2021, with supply chain disruptions, increased expenses relating to the new Shanghai Plant 2, and the resignation of key executives, she is hopeful that the company can deliver stronger growth in 2022.
CNMC Goldmine Holdings Ltd (CNMC SP) shares extended their rally and rose 4.1% yesterday. Despite correcting approximately 2% yesterday, Gold held above $2,000 an ounce, hovering near a record high hit in August 2020 as the demand for the safe-haven metal encountered pressures from a stronger dollar and Treasury yields. The London Bullion Market Association suspended six Russian precious metals refiners this week, prohibiting them from selling gold and silver in the London market.
United Overseas Bank Ltd (UOB SP) shares gained 3.7% yesterday, after it was announced that PhillipCapital stays 'overweight' on Singapore banks after rosy results. In a March 8 note, Thum is maintaining "accumulate" on DBS Group Holdings and United Overseas Bank (UOB) with target prices of $41.60 and $35.70 respectively. Improving economic conditions and rising interest rates remain tailwinds for the banking sector, adds Thum, who maintains "overweight" on the local banking sector. Thum adds: "We remain positive on banks. Bank dividend yields are attractive with upside surprise due to excess capital ratios. Improving economic conditions and rising interest rates remain tailwinds for the banking sector. Singapore Exchange (SGX) is another beneficiary of higher interest rates."
---
Hong Kong
Top Sector Gainers
Top Sector Losers
Weibo Corp (9898 HK) shares jumped 8.2% yesterday. The company recently announced its fourth quarter and annual results ended December 31, 2021. For fiscal year 2021, Weibo's total net revenues were $2.26 billion, an increase of 34% compared to $1.69 billion in 2020. Non-operating loss for 2021 was $146.7 million, compared to a loss of $130.9 million for 2020. "We closed 2021 on a solid note with decent growth in the fourth quarter, with strong execution of our growth strategies," said Gaofei Wang, CEO of Weibo. He also added, "Heading into 2022, we are dedicated to serving a broader community through enhancement of product functionalities and enrichment of the content ecosystem, and driving value for customers to market efficiently and innovatively on our platform."
L'Occitane International S.A. (973 HK) shares rose 7.5% yesterday, likely due to a technical rebound as shares entered the oversold territory after falling more than 30% since the start of the year. The Russian-Ukraine war sparked negative sentiment over the company as L'Occitane's latest financial report data showed that Russia is the company's third largest market in Europe, accounting for 3.4% of its net sales. Russia is also the company's third largest market in Europe. However, Yamato recently said that it reiterated L'Occitane's "buy" rating and raised its target price slightly to HK$38. Due to optimistic operating margin assumptions, the EPS forecast for fiscal 2022 to 2024 was raised by 3%.
China Datang Corp Renewable Power Co Ltd (1798 HK) shares rose 6.8% yesterday. According to the latest equity disclosure information, on March 2, 2022, Datang New Energy acquired AllianceBernstein LP to increase its holdings of 7.369 million shares at an average price of HK$3.1024 per share, involving a capital of approximately HK$22.862 million. After the increase in holdings, the latest number of shares held by AllianceBernstein LP is 226,203,135 shares, and the shareholding ratio has increased from 8.74% to 9.04%.
China Evergrande New Energy Vehicle Group Ltd (708 HK), Xpeng Inc (9868 HK). EV sector shares rose collectively yesterday. The Passenger Federation announced that the wholesale sales of new energy passenger vehicles in February reached 317,000 units, an increase of 189.1% YoY and a MoM decrease of 24.1%, which was less than the MoM decline in previous years. In February, retail sales of new energy passenger vehicles reached 272,000 units, a YoY increase of 180.5% and a MoM decrease of 22.6%, which was lesser than that in February of previous years.
---
Trading Dashboard
Trading Dashboard Update: Cut loss on Angang Steel (347 HK) at HK$3.50, Jiangxi Copper (358 HK) HK$12.80. Enter Sinopharm Group (1099 HK) at HK$17.70, Singtel (ST SP) at S$2.50.

(Click to enlarge image)
---

---
Related Posts: