1 March 2022: Stocks making the biggest moves
Market Movers | Trading Dashboard
Market Movers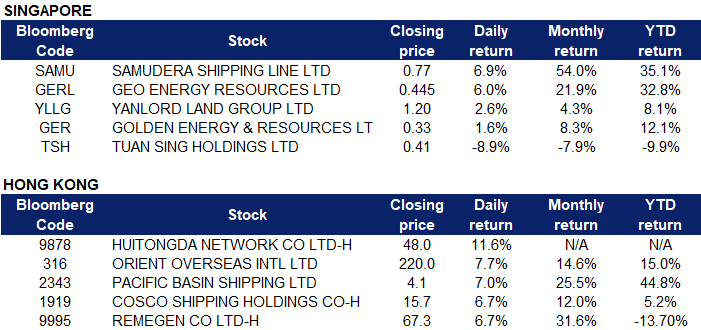 ---
United States
Top Sector Gainers
Top Sector Losers
Renewable Energy Corp (REGI US) shares surged 40.4% yesterday. Chevron said on Monday it would buy biodiesel maker Renewable Energy Group in an all-cash deal valued at $3.15 billion as the oil major looks to boost its clean-energy business. Chevron will pay $61.5 for each share of Renewable Energy, representing a premium of over 40% to the company's last closing price. Chevron has set a target to cut operational emissions to net zero by 2050 and in September pledged to invest $10 billion to reduce its carbon emissions footprint through 2028, with about $3 billion earmarked for renewable fuels.
First Horizon Corp (FHN US) shares surged 28.7% yesterday, following news that the company will be acquired by TD in an all-cash deal worth $13.4 billion, or $25 per share, a move that will allow the Canadian banking giant to expand its footprint in the southeastern part of the U.S.
Occidental Petroleum Corp (OXY US) shares jumped 12.9% yesterday. Occidental Petroleum Corp is buying back $2.5 billion of its bonds as the junk-rated company seeks to cut debt after reporting better-than-expected earnings with rising crude prices. The oil producer launched a tender offer Monday to repurchase 15 tranches of notes with maturities ranging from 2023 to 2049. Some of its targeted bonds gained. The $663 million of 4.1% unsecured notes due in 2047 vaulted 5 cents to 92.5 cents on the dollar Monday morning, according to data compiled by Bloomberg.
Tesla Inc (TSLA US) shares rose 7.5% yesterday. Panasonic Corp said on Monday (Feb 28) it will begin mass production of a new lithium-ion battery for Tesla Inc before the end of March at a plant in Japan. Unveiled by the Japanese company in October, the 4680 format (46 millimetres wide and 80 millimetres tall) battery is around five times bigger than those currently supplied to Tesla, meaning the US electric vehicle (EV) maker will be able to lower production costs. The new powerpack is also expected to improve vehicle range, which could help Tesla lure more drivers to EVs.
Block Inc (SQ US) shares extended their rally and rose 6.4% yesterday, after surging 26.1% on Friday. Last week, the company reported earnings and revenue that beat analysts' expectations for its latest quarter. Total revenue hit $4.08 billion in the quarter from $3.16 billion a year earlier, while "gross profit" jumped 47% to $1.18 billion, the company said. It also issued upbeat guidance for the current quarter and the full year, citing growing success in its consumer business, Cash App.
---
Singapore
---
Hong Kong
Top Sector Gainers
Top Sector Losers
Huitongda Network Co Ltd (9878 HK) shares rose 11.6% yesterday. On February 18, one of China's top 500 companies, Huitongda Network, was listed on the Hong Kong Stock Exchange. Recently, Jiuguijiu and representatives of Huitongda signed a strategic cooperation agreement. Liu Xiaoliang, general manager of the Huitongda, said that the cooperation involves integrating industrial Internet of things (IoT) with Jiuguijiu's traditional liquor channels. The cooperation with Jiuguijiu will be a new  starting point for Huitongda's marketing reform.
Orient Overseas International Ltd (316 HK), Pacific Basin Shipping Limited (2343 HK), COSCO SHIPPING Holdings Co Ltd (1919 HK). Shipping sector shares rose collectively yesterday. Shares rose 7.7%, 7% and 6.7% respectively yesterday. Bank of America Securities issued a research report and rated a BUY rating on Pacific Basin Shipping and the target price was raised from HK$6.1 to HK$6.7. The report mentioned that the company's management expressed confidence that freight rates are in a seasonal recovery, and the market freight rates are expected to be strong in the coming months. Regarding Russia and Ukraine, management stated that only 2-3% of shipments were affected.
RemeGen Co Ltd (9995 HK) shares extended their rally and rose 6.7% yesterday. Last week, Daiwa reiterated its BUY rating on Remegen as the bank's preferred stock in biotechnology, saying that it is still confident in its overseas development and believes that the company is seriously undervalued. However, Daiwa lowered its forecast for the company's  full-year overseas revenue by 20%, and lowered its target price from HK$130 to HK$114.
---
Trading Dashboard
Trading Dashboard Update: Take profit on First Resources (FR SP) at S$1.90. Add Jiutian Chemical (JIUC SP) at S$0.084 and Frencken (FRKN SP) at S$1.62. Add Angang Steel (347 HK) at HK$3.75. Cut loss on Ping An Insurance (2318 HK) at HK$60.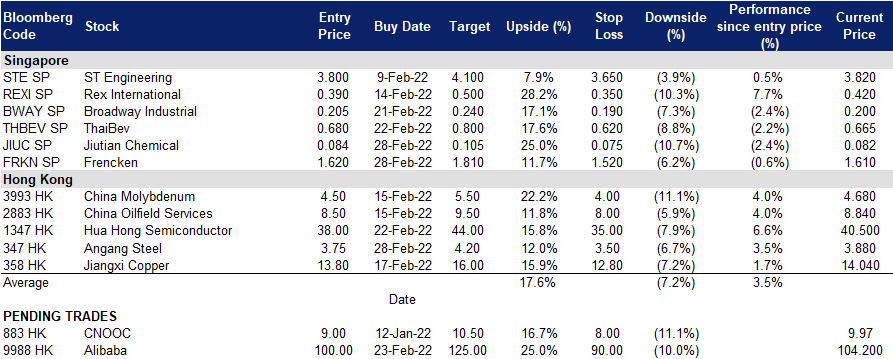 (Click to enlarge image)
---

---
Related Posts: